zencontrol's Cloud services

analyse, store and transform the data

helping stakeholders

understand the performance of the building.
Smart buildings
The evolution of smart data onto a DALI-2 platform increases value to stakeholders while optimising the cost of deployment as the data is made available on a standard DALI-2 installation. DALI-2 provides stakeholders the flexibility to use devices from different manufactures that support the DALI-2 standards.
Our Analytics suite can process a wide variety of data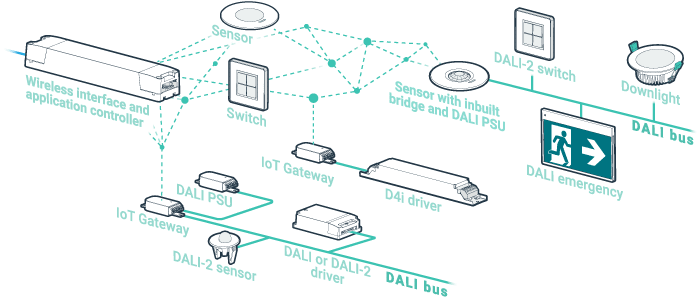 Wired or wireless
zencontrol supports wired and wireless DALI buildings, with full wireless support of IEC62386-104 devices over UDP and Thread®. Customers get to experience the same features and benefits independently of their choice of connection technology.
A zencontrol control system can detect devices supporting power monitoring standards and will

stream their power consumption every 15 minutes

to zencontrol's analytic servers for processing.
Power dashboard
When comparing the energy consumption of a building, all contributors require consideration. With zencontrol's Power analytics, the power consumption of all compliant DALI-2 devices is tracked to provide accurate and encompassing data.
See the amount of CO2 saved by energy saving features deployed in the building
The dashboard works out watts/m2 of the building using your buildings setup
Daily energy savings from features such as task tuning, sensors placement, daylight harvesting and other.
Create your own custom dashboard with specialised widgets and graphs focused on the areas you want to see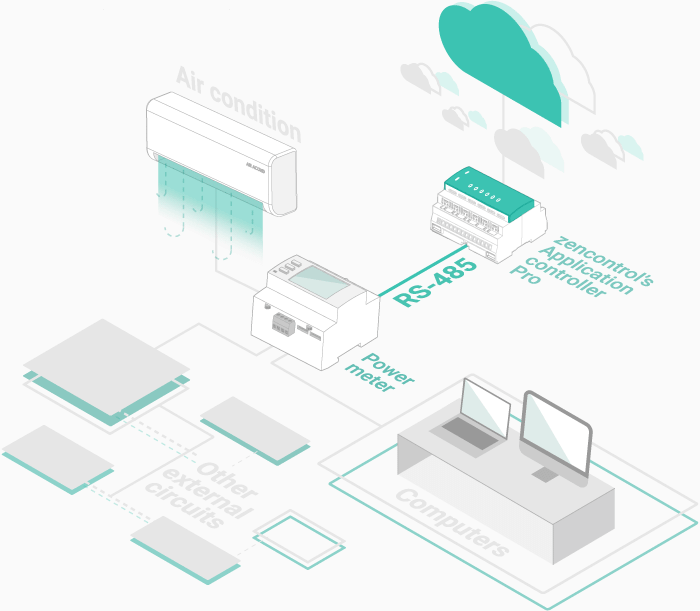 Per-fitting power monitoring
for DALI-2 devices:
emergencies, light fittings, switches, sensors and more
See per fitting, room, floor or departments
Identify high power consumption areas
Works with Tridonic PRE range of led drivers
Support for older DALI compliant sites on
Get per-fitting power measurements with the smart driver
Employ strategies to reduce power consumption
Change your building control to maximise energy savings
Provides a cloud connected API to suit large scale BMS
Track power usage over time to see how power saving plans have worked
Shows power data of external circuits through RTU power meters
The
Issues dashboard

allows maintenance teams to

quickly and accurately track the system performance with a wide range of reported issue types.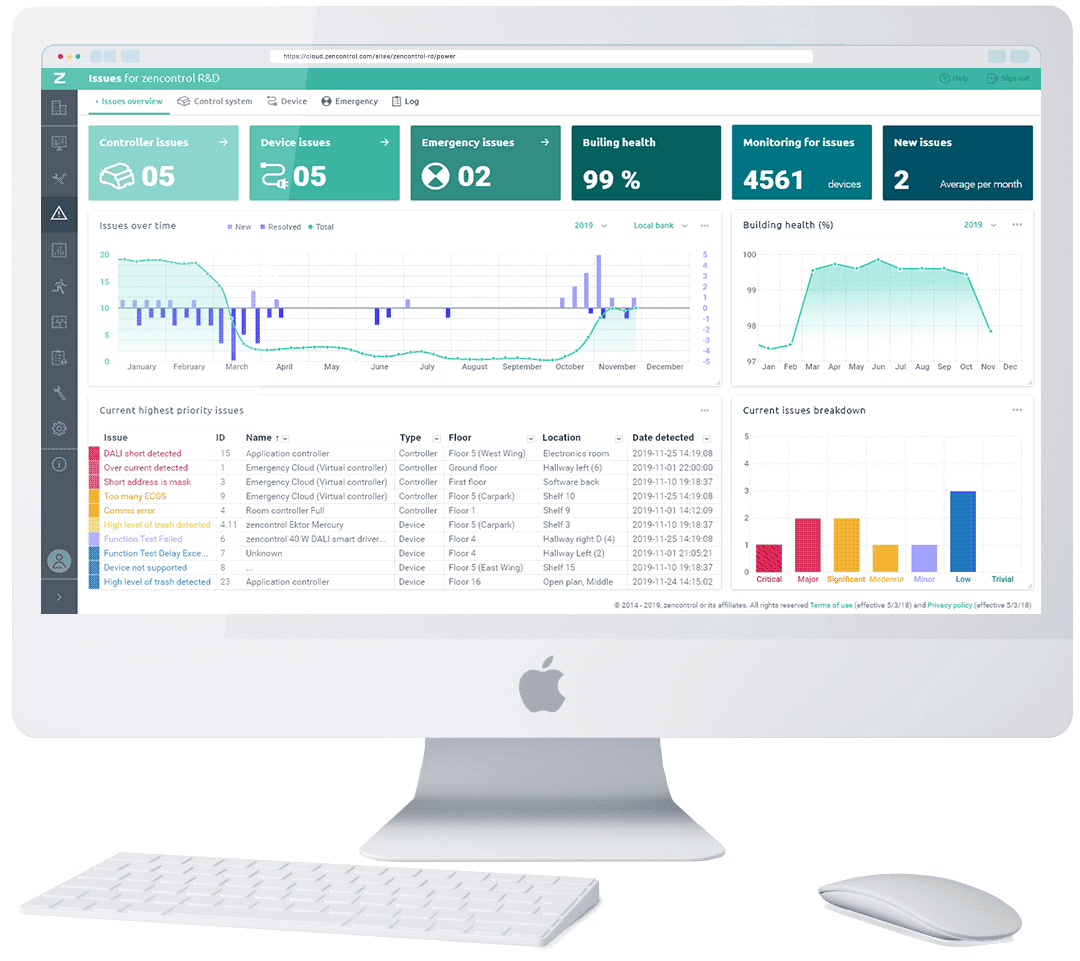 The

Analytics dashboard

allow you to

compare and analyse your sites operation,

understand the details,

make changes and then validate the results.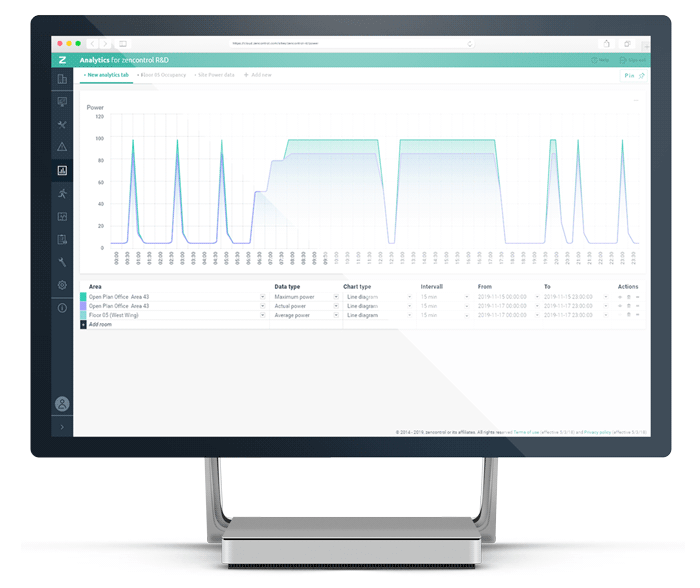 Previous

comparisons can be saved

/ pinned to allow user to

keep track of data

for specific areas, rooms and sites.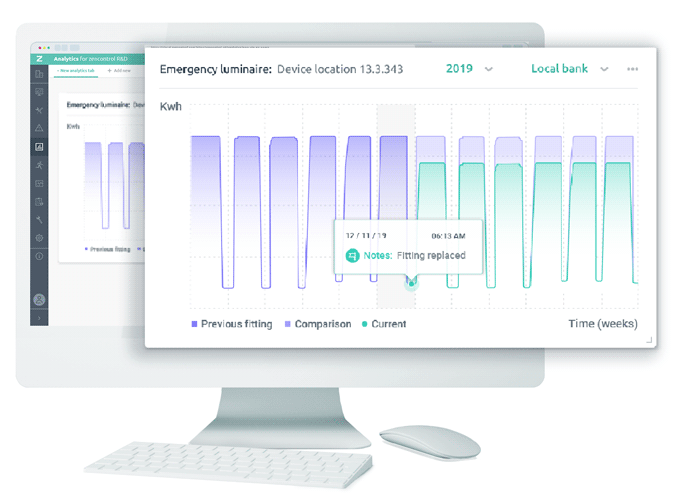 Lifetime
Understand the lifetime of a manufactures' products with full lifetime tracking and statistics.
Lifetime tracking

allows building own to see which brands are preforming better,

and living up to the manufactures promise.
Colour shift tracking
Measure and analyse a sites colour performance over time.
While many LED manufacturers are full of promise about the performance of their products, the ability to measure actual performance has been difficult. With zencontrol analytics building owners can track CRI and colour, in addition to illuminance, of a room over time.
Use the zencontrol smart driver in your lighting to get per fitting CRI measurements.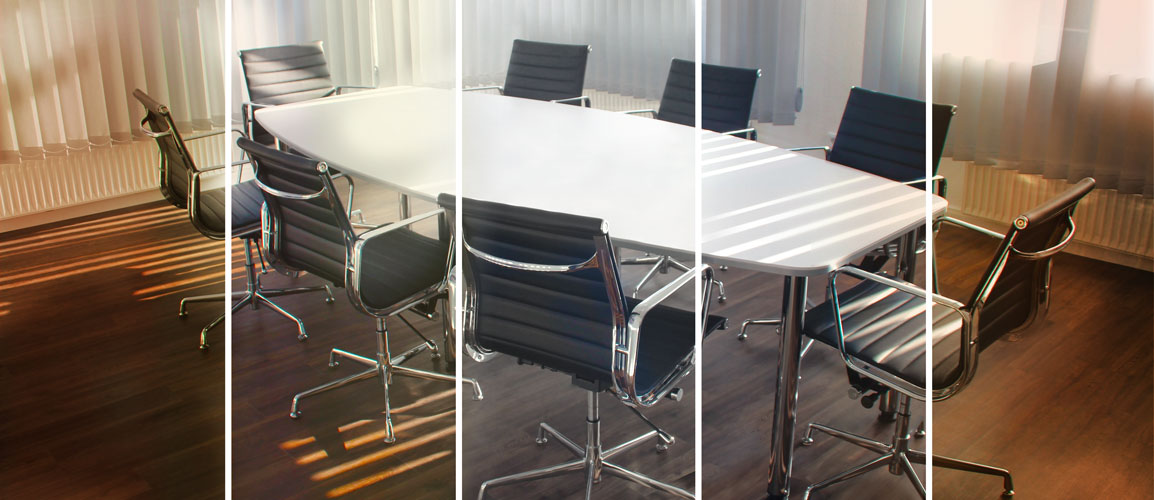 With the

Occupancy dashboard

zencontrol uses DALI-2 compliant occupancy sensors to track and understand occupancy within each area,

with each sensor providing a full set of occupancy data.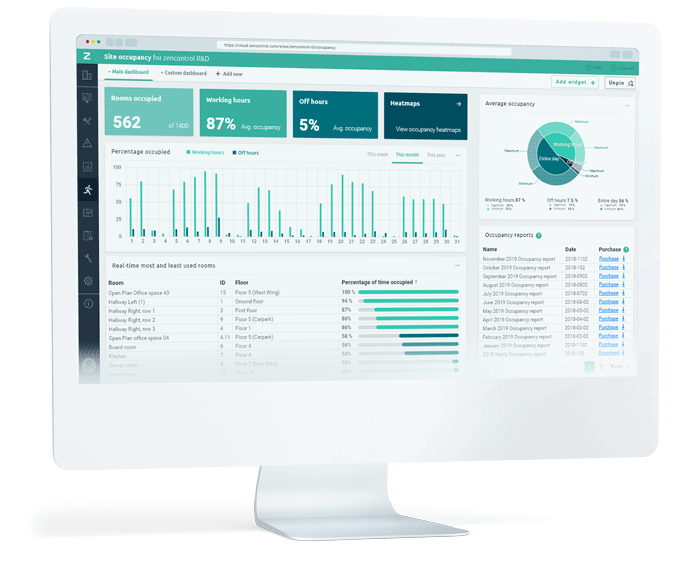 Making informed choices
Understanding how areas are used is of utmost importance to any building owner or company seeking to be effective.
Use analytics to visualise and interact
with your devices on Plan view. Quickly and easily

identify faults, power usage and high/low occupancy.
Plan view
With the zencontrol plan view, Facilities managers, maintenance engineers and planners can quickly and easily visualise the site
See faults
See the current light levels
Make repairs easily
Click on lights / sensor / switches to configure and set up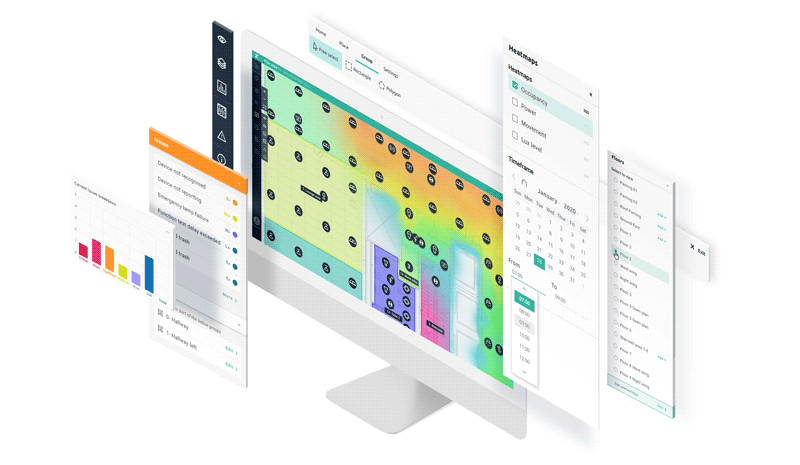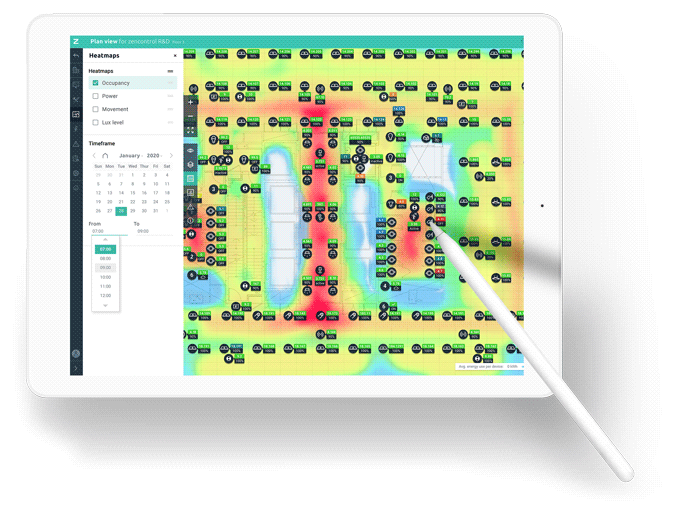 Occupancy use maps
An occupancy heatmap overlay over the zencontrol Plan view provides an easy way to understand the most utilised areas and the flow of people throughout the day.
A user can select and compare different time periods to understand periods of the day which may need to be addressed.
Schedule maintenance on usage
Understand when resources are over booked
Prioritise maintenance and upgrade based on risk
Change lighting control based on usage for max. energy savings
Determine main movement paths and critical areas for maintenance
See which rooms/areas have the highest utilisation, reconfigure
Use the Smart driver in your lights for per-fitting occupancy mapping
Lux level mapping
With zencontrol you can avoid traditional methods of understanding lux levels and daylight harvesting where personnel use portable lux meters to take manual readings. Identify areas which can be fine-tuned to provide greater savings with our lux level and use-case mapping.
With lux level mapping a user can:
Understand their light levels better
Understand how well the lighting has been setup
Understand how much natural daylight has contributed to light levels
Determine critical lighting areas easier
Change your building control to maximize energy savings
Use the Smart driver in your lighting to get per fitting lux measurements
Resources
Learn more and discover more of what the zencontrol Cloud has to offer using the below resources.