A highly customisable
and

powerful display

that provides

flexible user control


for DALI, wireless lighting, fans, blinds, and relays.
New colour picker
Our advanced colour picker feature enables you to effortlessly choose the perfect hue for your room.
Supports DALI DT-8 RGBW and tuneable colour devices
Optional brightness control
Optional hue control
New button control
Our new zencontrol SSD allows for more customisation. Each button is now a flexible button container which allows greater customisation, more control and greater flexibility.
A button container can be broken into multiple segments allowing for more actions from a single button
Each segment can now be customised with our icon library or replaced with custom text
Multistate buttons allow a button container to work together a track multiple scenes or states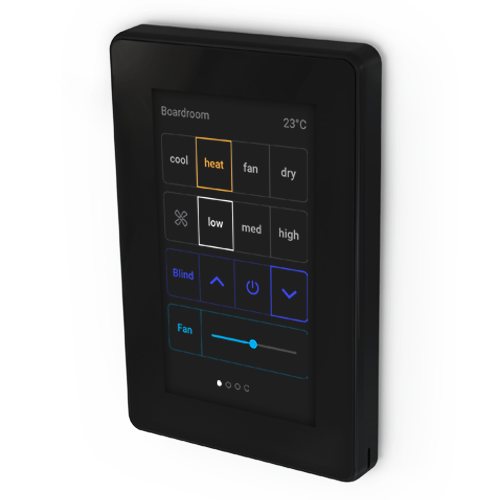 Flexible button containers can be setup into

4, 3, 2,

or

single segments

allowing high levels of customisation.
Our new slider widget allows for
greater control
and

flexibility.
Change the colouration of the slider to indicate colours (single or dual colour configurations)
Uses sliders and buttons in the same switch container
Create rooms
Rooms provide a way to group controls together providing a better user experience.
Each room contains 4 button containers
Customise each room to contain controls suitable for that environment
Add scenes, control for fans, air conditioning or other lighting into a single room
Customisable buttons with user feedback
Create buttons which provide

visual feedback

of data to the user to

improve control and functionality.
Supports air conditioning control, allowing the user to set the desired temperature
Create volume control, fan speed control or light level control and feedback the current levels to the display
Data bindings
Button containers also support displaying custom data to the user.
With the use of zencontrol Data bindings, data can be sent around the DALI network or from other external sources such as BACnet, TPI, MQTT or other supported methods and displayed directly on the screen.

With the use of data bindings the screen can be used to display:
Current tenancy power
Bookings and other information
Sensor alerts
CO2, temperature or other sensor data
or any other custom data.
Add a passcode to

lock the screen from unauthorised users.
Full-colour 4″ touch screen,
800×400 resolution
High-quality touch screen with capacitive touch interface, visual feedback, temperature and proximity sensor.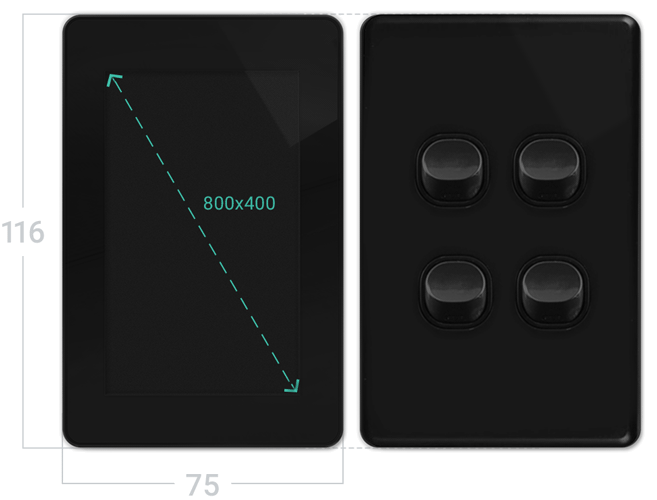 Easy to use
Intuitive design makes this Smart Switch easy to use and set up. Each switch functions as a DALI-2 pushbutton or absolute input and allows for:
Single-button dimmer control
Action switches
Toggle switch
Sequences actions
Get creative
and design a button

to suit your needs.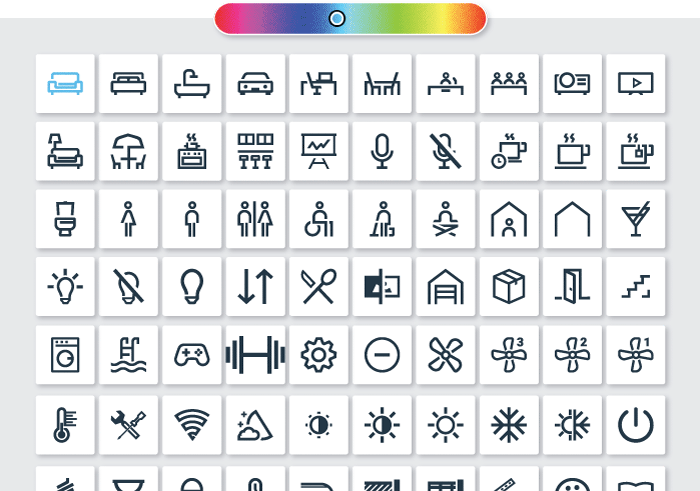 Inbuilt proximity sensor
automatically wakes the screen
Wake the screen from sleep mode by bringing your hand close to the screen.
Not all features are available in all markets or models. Please refer to the product datasheet for the specification of a particular model.
Customise the language shown
Support for multiple languages
Use the labelling technology to make spaces more comfortable with different languages that suit the diversity of the building.
Wireless, DALI-2 or Hybrid Solutions
Experience seamless integration with zencontrol systems, offering wireless, wired-DALI, or hybrid solutions for your building's needs. Our smart switches serve as a wireless bridge, ensuring that both wired and wireless systems collaborate flawlessly. Achieve a fully functional building environment with zero compromises.
Easy setup
and

programming

With the powerful widget editor available in the zencontrol cloud, you can effortlessly customize your touch screen according to your preferences.

Our selection of easy-to-use button templates allows you to choose from a vast range of pre-made buttons, while our styling examples offer ready-to-use templates and colour schemes.

Programming the device is a breeze, and any changes made by the user are automatically synchronized to the screen without the need for complicated programming interfaces.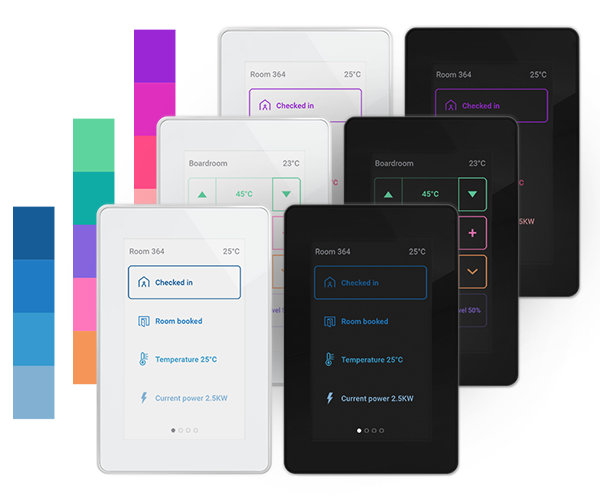 Create

smart

and

intuitive buttons

with

meaningful feedback

Learn more
First out of our Smart Switch series the Display (zc-ssd) comes in wired and wireless with endless possibilities for its use.