Multiple variants to choose from:
For standard BMS systems
who want to show faults such as lamp, device and emergency failures.
Make use of reporting and control
Override the control system tasks for a defined period.
Control groups with lighting level command or recall scenes.
Control the occupancy state of rooms, allowing for the activation of air-conditioning and more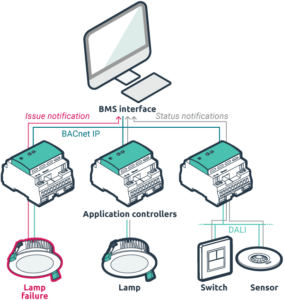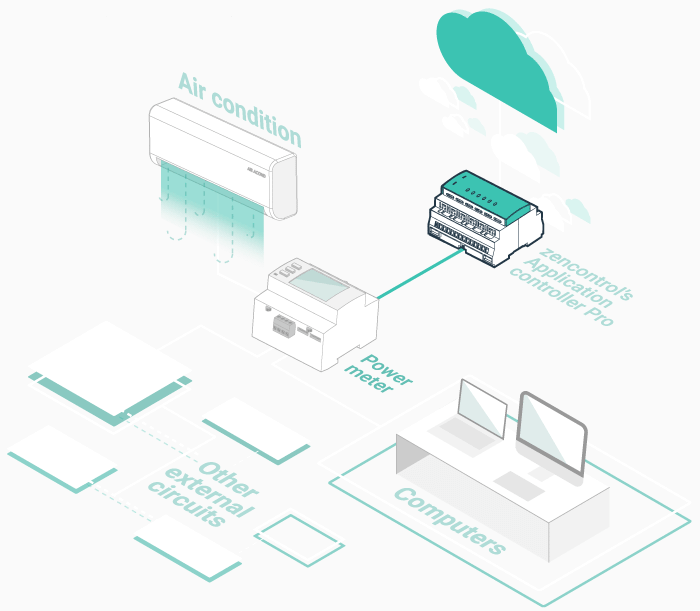 For control system providers
who require power metering
Make use of zencontrol BACnet Power interface
Utilises zencontrol BACnet Power interface to receive power information from any DALI-2 compliant devices that support DT51:
15-minute power data from every DALI-2 device
Power data synced to the hour
COV notification with data rate limiting
Manufacturers device identification for robust data analytics
Additionally, for system providers who have difficulty with large datasets, zencontrol provides Cloud APIs, which can provide the pre-formatted datasets.
For control system providers
who would like to control the logic directly
Make use of inputs and control
Control of groups with lighting level commands and scene recalls.
Override the control system tasks for a defined period.
Get access to:
Occupancy sensor triggers
Lux levels
Switch inputs
Absolute inputs
This allows the use of compliant DALI-2 control devices to be used as inputs on a BACnet control system. With complete support for switches, sensors and inputs from IR remote controls.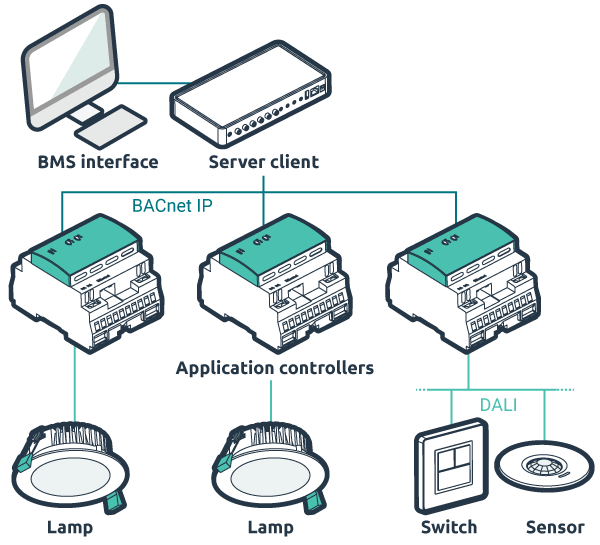 For older and less capable BACnet clients,
this variant allows for the collection and mapping of multiple zencontrol BACnet devices into a single device.
Server and client
This is useful for systems that cannot handle a large number of BACnet devices due to power, licencing costs or feature limitations.
Distributed and fast
Each zencontrol Application controller, including the LCM, RCM and AC are compatible with the BACnet variants, without the need for additional hardware.
Each controller provides updated information in real time, which reduces latency and the likelihood of stale data which is typical for systems that use an intermediary device to collate and present the data/states.
The distributed nature of zencontrol's approach

reduces risks

associated with Single Point Failure of intermediary devices

increasing overall reliability of the site.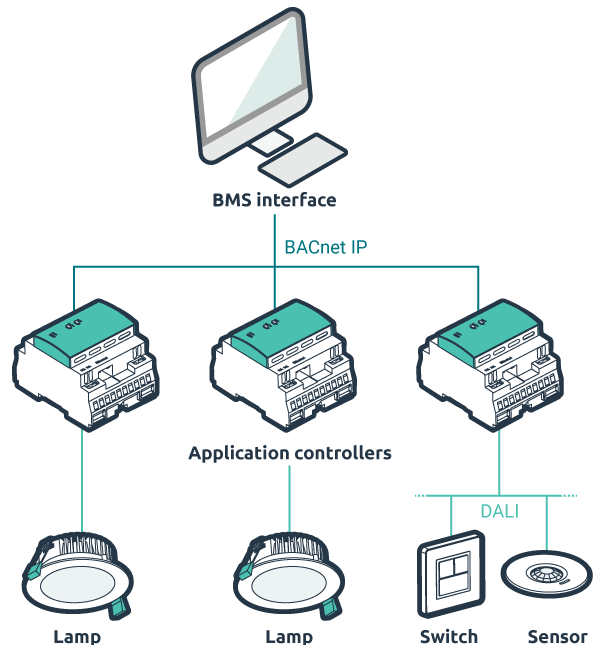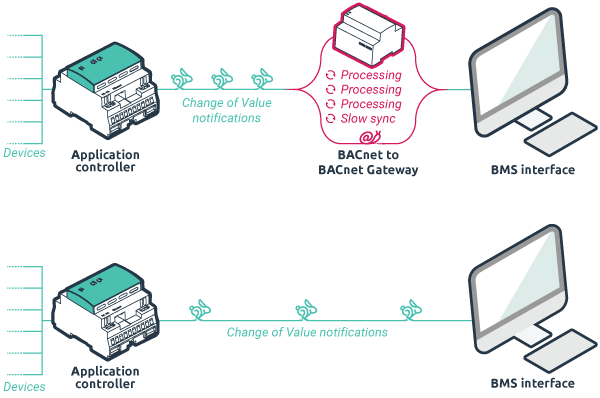 CoV and notifications
With built-in support for Change of Value reporting a client can subscribe to datapoints which allow instant notification of changes in state.
This type of reporting allows for the BMS and other systems to get the information efficiently when needed rather than relying on a continuous poll of datapoints.
zencontrol BACnet controllers also

support notifications and other

standard BACnet methods.
Use compliant DALI-2 switches and sensors as BACnet devices
with zencontrol's BACnet upgrades
DALI Switches and Sensors
Every compliant DALI-2 switch and sensor can provide inputs directly on the BACnet IP interface. These allow the support of occupancy, light level and switch presses (momentary or absolute presses) and allows for polling or CoV subscriptions.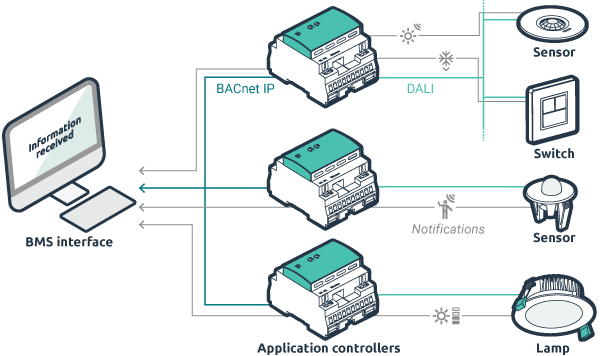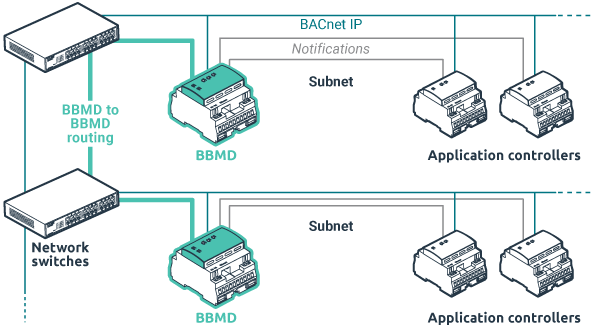 BBMD and FDR
Our controllers support BACnet/IP Broadcast Management Device and foreign device registration allowing larger buildings, with multiple subnets to route the BACnet information through network, without the need for dedicated BACnet routing hardware.
Additionally, zencontrol controllers can be used as a standalone BBMD device which can assist on sites where older BACnet systems are used and do not provide BBMD functionality
Biggest job by zencontrol had

over 1,200,000

individual

BACnet points, realtime
zencontrol BACnet servers can provide

large amounts of data, fast and efficiently.
Big data
A typical single DALI line can provide up to 3000 datapoints and over 6000 datapoints with our analytics variant.
zencontrol have deployed multiple BACnet sites with over 300,000+ data points per site. This allows smart buildings to become smarter with meaningful, up-to-date information on a scale which is seldom encountered.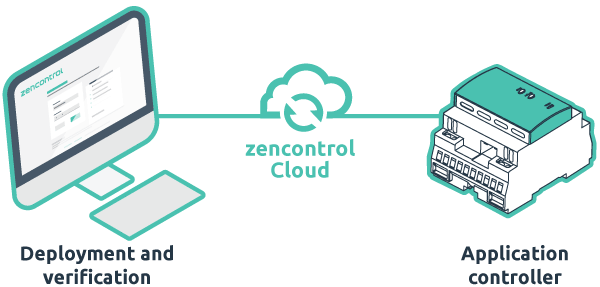 Smart upgrading
Upgrade your zencontrol Application controllers to support BACnet at any time. The zencontrol deployment and verification servers will deploy an upgrade to your controller or site to add BACnet support.
zencontrol has worked on jobs with

many different BMS providers using our BACnet interface.
Wireless
zencontrol BACnet integration also works with our wireless switches, sensors and other wireless devices.

[zendesk_request_form subject="Customer Inquiry" attachments="0″ group="campaign" redirect="//zencontrol.com/inquiry-received" size="4″]