A 10A 4 channel LED pwm dimmer that supports

DALI wired

and

wireless interfaces.
Designed to support 12 - 24V DC LED strips
Maximum power capacity 240W (10A x 24V)
Field bus enclosure for remote mounting
Customise your space

with switchable modes.
Smart pwm controller 10A
This product supports both DT8 and DT6 with the ability to switch between modes. It comes with DT8 RGBW, two tuneable white controllers or four DT6 controllers which are compatible with DALI-1 control.
Large pass through terminal
blocks for easy wiring.
Suitable for soft wiring systems and with DALI and power connections at the same end. The slim profile of the pwm controller allows it to fit through a 90mm downlight cut-out for easy installation.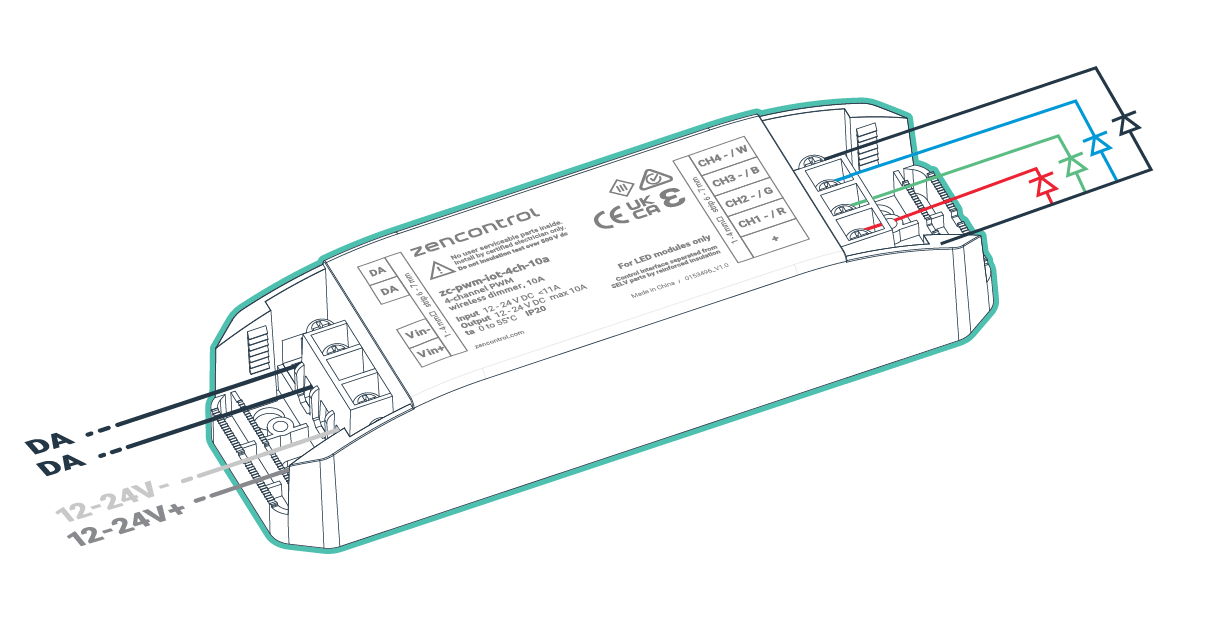 Available as
wireless, wired-DALI

, or can act as a wireless

bridge

between wireless and wired installations.
Hybrid solutions
With a zencontrol system, wired and wireless systems work together seamlessly to create a fully functioning building with no compromises. The zc-pwm-iot-4ch-10a only draws 2mA from the DALI line and can act as a wireless bridge.
Control from any zencontrol

smart switch product.
Supports zencontrol standalone mode
Use any zencontrol smart product
to create a standalone network.
Control is made simple with the zencontrol smart product family. From recalling scenes, dimming lights to complex scenarios such as corridor dimming, and with world class low latency high data rate interfaces, the smart pwm controller provides full functional control with easy setup.
Missing out by not using zencontrol in your building? Contact us to find out how zencontrol can enhance your experience
Contact us
Controllers
Check out our range of controllers
Learn more
Next out of our Smart Relay series the Smart pwm controller (zc-pwm-iot-4ch-10a) comes in wired and wireless with endless possibilities for its use.