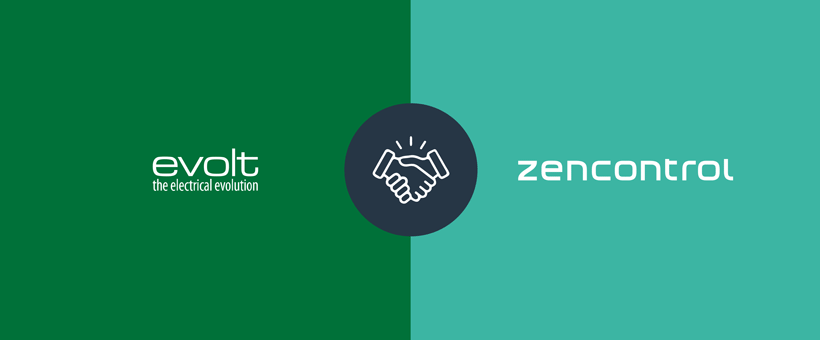 zencontrol acquires large position in Evolt
zencontrol acquires large position in Evolt
zencontrol and Evolt have reached an agreement that allows zencontrol to acquire a significant shareholding in Evolt. In the new agreement, Joshua Newell (zencontrol) and Ryan Holmner will take on a dual Managing Director role. Joel Moss will continue to contribute his expertise on the Board of directors as Chairman.
zencontrol has provided emergency lighting to Evolt since 2006, and has offices in 5 countries around the world, currently selling emergency lighting in over 10 countries.
The acquisition opens new opportunities for zencontrol to deliver its 4th generation emergency platform directly into the Evolt sales and distribution network.
"We are extremely excited about the opportunities this acquisition will deliver,"

said Joshua Newell, Director at zencontrol.

"Recently zencontrol has been expanding into new markets through acquisitions, partnerships, and joint ventures. We are actively selling our control systems into 27 markets and are continuing our strong growth"

– Joshua Newell, Director at zencontrol
"Our new platforms allow us to deliver smarter and more connected products with increased lifetimes and reliability, I am very happy to see this acquisition as it helps deliver this platform to a broader market

"

– Brendon Scott, Project manager at zencontrol
---
Who is Evolt?
Evolt is an Australian distributor of lighting and emergency products. It distributes several brands across Australia including; Atom, Lutec, Wiz, and the emergency range Ektor.
---
About zencontrol
zencontrol is a manufacturer of lighting and control products including Emergency Luminaries, control gear, and lighting control systems incorporating DALI. The zencontrol team prides itself on high-quality design, manufacture, and service. This position is key to our company's continual success, while our innovative capacity allows our products and solutions to stand ahead of the competition.
You can learn more about us here