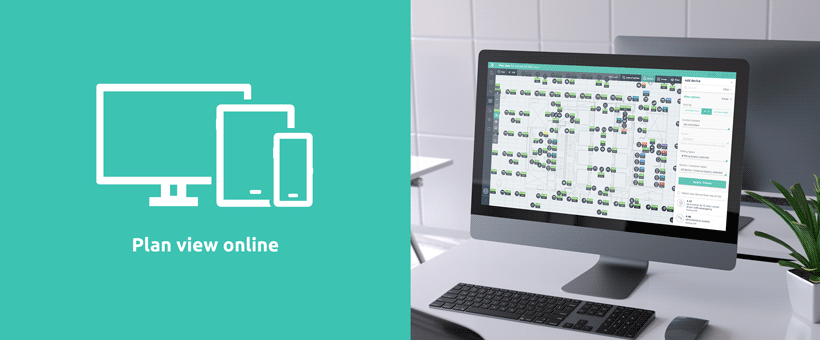 Plan view goes online
zencontrol releases Plan view
zencontrol is pleased to announce the availability of our online plan view
Plan view gives the users the ability to visualise the building from the plan and easily see faults and issues.
The basic version of the plan view is free to customers (excluding commissioning), with the ability to upgrade to include heatmap and other visualisations.
Users can access plan view from a web browser on their PC or from Android or Apple Tablets. Place fittings, sensors, switches and other devices on the plan to obtain AS- Built layout, including the automatic labelling of devices and addresses onto the plan.
Some feature that Plan view will provide:
Visualisation
Pre-commissioning
See failures and faults easily
Heatmaps for various datasets
Heatmaps for various datasets
Supports simultaneous multi users
Group and controller selection tools
Supports real-time or periodic updates
Filter and view selected types of devices
Fast loading of tens of thousands of fittings
Supports android and Apple tablets or PC/ Mac
Zoom in and out of high-resolution vector plans
Analyse the power consumption of the DALI line
Quick and easy placement of fittings onto the plan
View different data such as battery level, arc level etc
Use Plan view to provide building take-offs in the quoting stage
Easily visualise the device type, with selectable fitting type icons
Automatic background tiling of plan to only load the data you require
Group fittings and target switches and sensors with the selection tool
Support multiple icon sizes and resolutions based on user or site preferences
Login to the zencontrol Cloud today to explore Plan view
---
Not on the zencontrol Cloud?
zencontrol Cloud is an enhancement to standard lighting control. While all zencontrol buildings can operate without a cloud connection, adding cloud control provides a faster and more manageable solution. You can find out more about zencontrol's Cloud system here or discover the possibilities for improving you commercial lighting control system today with zencontrol analytics and sign up today.