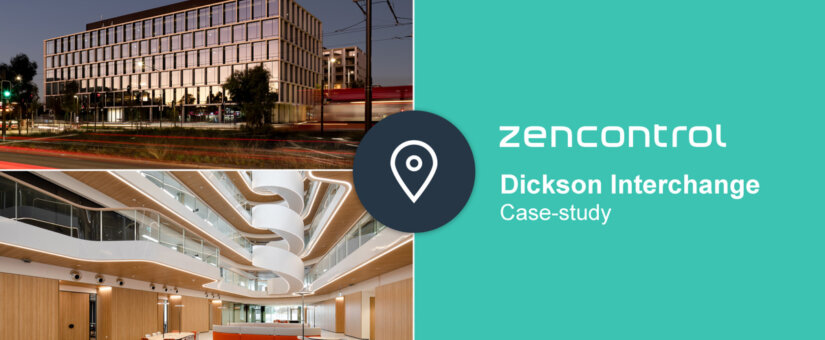 Case-study: Dickson Interchange
A vibrant mixed use precinct
In redeveloping the former Dickson Motor Registry Site into a vibrant new precinct the ACT Government sought to hit all NABERS energy saving targets.
Energy targets
zencontrol provided sensors and switches not only adding to the build meeting 5 Star NABERS Base building energy rating, but also reaching a 5 Star Green Building Australia – Design and As built rating.
Choosing zencontrol and setting high targets for the project means a more comfortable environment for the more than 1000 ACT public servants, 280 apartments and 90-place childcare centre housed at Dickson Interchange.
Cloud services
zencontrol's Cloud services is another way to improve energy efficiency. With our sensor picking up lux and occupancy data the Cloud allowed building managers to quickly act upon that information and easily change room settings or light levels. The site floorplans for Dickson Interchange were uploaded to the Plan View to provide an easy overview of the operation of the site.
Emergency
As well as zencontrol products the projects also featured Ektor emergency exits from their slimline Razor range. Ektor is an emergency product range manufactured by zencontrol worldwide, made to work with and perfectly integrated with zencontrol smart technology.
Project details

Category
Mixed use
Location
Canberra, ACT, Australia
Client
Australian Capital Territory Government
Size

Office, 5,000m2
Retail, 1800m2
Medical, 1230m2
Gymnasium, 625m2

Supplied

Sensor
Switches
Lighting control
Integration

---
What is NABERS?
NABERS is Australias national rating system that measures the environmental performance of buildings and tenancies. NABERS measures energy efficiency, water usage, waste management and indoor environment quality of a building or tenancy and its impact on the environment. This helps building owners to understand their building's performance versus other similar buildings, providing a benchmark for progress. Learn more here.

---
What is the Green Building Council Australia?
Green Star – Design & As Built assesses the sustainability outcomes from the design and construction of new buildings or major refurbishments, across nine holistic impact categories.