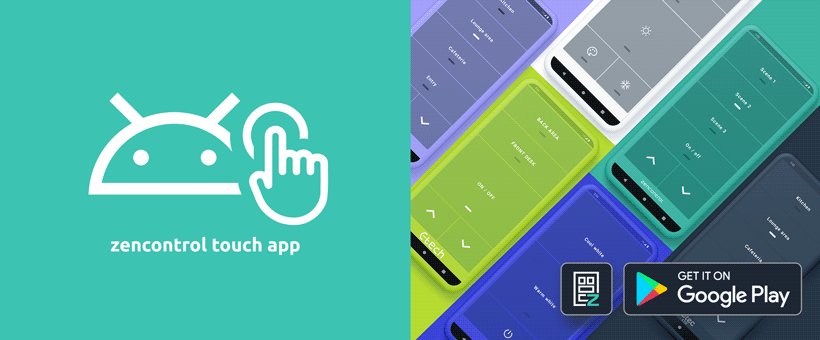 New Touch app
zencontrol releases new Touch app for Android.
zencontrol's new touch app allows the creation of custom switch applications giving customers the ability to control their lighting from an android phone, tablet or embedded device. The Touch app allows users to load custom JSON script which can be designed in the online creator or by the integrator.
The app has the following features:
Customised buttons with feedback of state
The ability to target different controllers
Ability to add Customer logo or name
Customisable colour and graphics
Ability to load multiple scripts
Works on the local network
Password protection from changing scripts
Ability to use Virtual switches which allow the addition of logic
Multiple users and instances of the app can be run with Realtime update on all devices
Download the app today from the Android play store and start building today.

---
Don't know about the zencontrol Cloud?
zencontrol Cloud is an enhancement to standard lighting control. While all zencontrol buildings can operate without a cloud connection, adding cloud control provides a faster and more manageable solution. You can find out more about zencontrol's Cloud system here or discover the possibilities for improving you commercial lighting control system today with zencontrol analytics and sign up today.