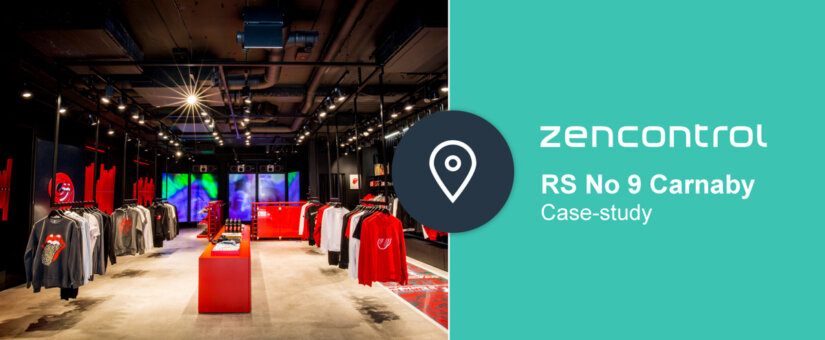 Case-study: RS No9 Carnaby
A modern space with a real 'backstage feel'
This iconic project is the world first Rolling Stones store celebrating the greatest Rock n' Roll band in the world.
A space with a story
Situated in what was, the beating heart of the Music and Fashion scene of the swinging sixties the store is a modern space with a real 'backstage feel' which echoes with the Rolling Stones fans, through music, fashion clothing and exclusive limited-edition merchandise.
The Rolling Stones brand was thoughtfully translated into every part of the design from the selection of the architectural finishes, through to the LED spotlighting and 'sprayed-out' exposed building services, whilst featuring a number of very bespoke elements.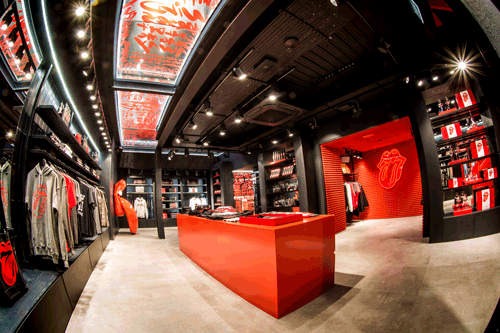 DALI-2 control
The lighting control system by zencontrol used the open standard IEC62386 DALI-2 to provide scene control for the main and accent lighting. In addition, the reception/event space also incorporated a fully programmable LED lighting array.
The DALI-2 Lighting control system comprised of 6 Application controllers managing 340 addressable LED drivers all being controller from a central scene plate. Designed to provide maximise efficiency with room for expansion to include additional lighting or add on services as and when required.
Smarter, with Open standards
As the High Street evolves post-Covid-19, retail spaces will have to be smarter, and flexible to meet the changing demands of both the building owner and customer. Working with Open standards, as zencontrol does, removes any fear of being locked into a single supply solution and as the RS No9 Carnaby store evolves the lighting controls can swiftly adapt to meet the growing demands of this dynamic retail space.
Project details

Category
Retail
Location
London, United Kingdom
Client
Bravado, Universal Music Group and RMC Retail
Assoisiates

The Anslow Partnership
Clements Retail
Lightmotion

Size
Supplied

Application controllers
Scenepanel switches
Cloud services

---
What is IEC62386?
DALI is a lighting control standard defined under the European Standard IEC62386 and for controlling electronic ballasts, transformers, LED's, emergency lights and exit signs. IEC stands for International Electrotechnical Commission and is a non-profit organization. Version 2 of IEC62386 known as DALI-2 has opened to switching and sensor devices that were normally locked to a proprietary control system, or contained within another protocol to be moved onto the DALI line. This increases freedom, availability and choice for the installers and customers as now they can choose from a large number of compatible products.
---
zencontrol worldwide?
Yes, you can find zencontrol all over the world, visit our contact page to find your local distributor. As we are proud of our constant growth and want to take the opportunity to shine a spotlight on our wonderful distributors we've dedicating some time to introducing them in a series of news posts, look them up in our news feed.