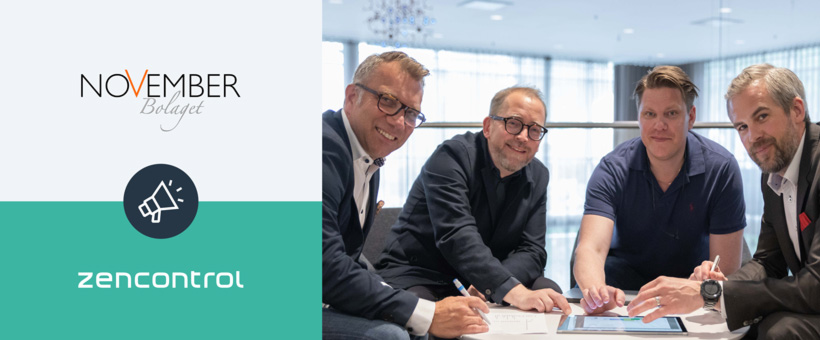 Spotlight: NovemberBolaget
Introducing our Swedish distributor
Established by Elias Kyhlback and Per Vesterlund, two individuals who after having worked for many years, for several large companies, in control systems have experienced the difficulty of being able to deliver optimal solutions. They set out to create a company that sees the customers needs and vision, and from that create a tailored system solution.


We spoke to Elias & Per to learn more about what's involved:
A. Well, there's a couple of things. One of them is that we are very focused on open and standardised systems and that's not because we have to, we have proprietary systems as well.

It's because we care a lot about the end customer, with open and standardised systems they don't have to worry about being dependent on a single company. The other thing is that we don´t just represent one brand or one system type. We help customers to find the best system for them depending on their criteria.
Q. What sort of challenges do you meet the most and how do you overcome them?
A. Some people have had a bad experience with lighting control systems in general. They have been working with a system that has a lot of issues or with people that haven´t been skilled. It can make them quite sceptical about using systems. To solve this we show them the systems and explain that that's the reason for using standardised systems and work with companies that are experts in their field.

We continuously train in the latest technology, continuously test and review suppliers and products, to ensure that we can always deliver our customers the best solution. For us, a control system is a tool to simplify our everyday lives and make us feel better. A long-term investment that will follow the building's life cycles and be able to be modernised over time.
Q. Is that why you partnered with zencontrol?
A. At first, it was zencontrol's complete lineup of DALI-2 products that caught our attention. However, when we started to test the system we were very impressed. I can honestly say that zencontrol has one of the best systems that's I have worked with within my career.
Q. Are there any industry niches you have found to work particularly well with zencontrol?
A. No, not any specific niche, but the larger the site, the better zencontrol is! It is very easy to scale up. But, the most important thing with large projects is to organise, and how to find devices and rooms when there are thousands of them. zencontrol is a fantastic system for this and it's so fast to work with.
Q. What's your favourite product, what projects is it suited for?
A. That would be the Room controller and it's suitable for most projects. Run one line per room into the Room controller groups and sets up the rooms automatically. If there are larger open areas I would use the DALI-2 application controllers instead.
Q.What's your favourite type of project?
A. Our favourite projects are anything with Human Centric Lighting, we are at the moment using it in most of our projects. As an example when working with aged care facilities we create easy to use, yet advanced solutions suitable for all patients, including those with dementia.
---
Get in touch:
To get started with your next project in Sweden contact NovemberBolaget:
---
Spotlight: zencontrol distributors
Here at zencontrol we are proud of our constant growth and want to take the opportunity to shine a spotlight on our wonderful distributors. That is why we're dedicating some time to introducing them in a series of news posts, so keep an eye out for more.